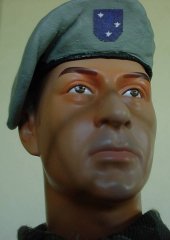 USDOC FLASH FORCE RESERVE COMMAND OFFICER
Assignment: Command 31
Code Name: Lightning 31
File Name: Sevier, Donald P. SN: 035-03-9667
Primary Military Specialty: Airborne Infantry
Secondary Military Specialty: SFAUC (Special Forces Advanced Urban Combat)
Place of Birth: Bakersfield, CA Discharge Grade: E-8

Bored after sleeping his way through a community college associate degree, enlisted in the Army on his birthday in late 1996. Graduated top of his class at airborne school, Fort Benning and served with the 82nd in Kosovo. Returned home and earned the Ranger Tab then went Special Forces in 1999. Following an embarrassing incident, turned down a commission opting for a court martial. Taken in by DIRDOC, who is privy to classified information, as an RCO and laid groundwork for the agency's counter-terrorist operations. Qualified expert in all NATO and Warsaw Pact small arms. Commands by either winning respect or shoving when pushing is necessary. Personally led several rescue missions in hostile territory that for obvious reasons of security were never publicized let alone admitted to.

"They tell me that an officer's job is to impel others to take the risks, so that the officer survives to take the blame. With all due respect, sir....if that's what an officer does, I don't want any part of it."