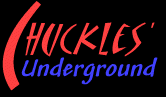 ----
--I invite you to become a member of Chuckles' Underground and display your devotion for A Real American Hero for all to see! No big deal really, I'm just making of list of fans who will receive a numbered callsign to go in their signature at the bottom of newsgroups postings and email.

--I doesn't matter what aspect of RAH you presently collect or have collected in the past, whether it be comics, cartoons, 3 3/4" figures, HOF and custom 12" figures. All that matters is that you are a fan of the RAH universe!

--So if you'd like me to add you to the list, email me and LMK. I'll respond with your callsign ASAP.
----
Phonetic alphabet
--Affiliates will be organized into units of five based on order of induction. We start with Alpha One and go from there. A standard callsign would look like "A Real American Hero: Theta One" which would be abbreviated to "ARAHT-1". Unit designations will be taken from the phonetic alphabet listed below.

Alpha
Bravo
Chaser
Delta
Echo
Fox
Gamma
Headhunter
Indigo
Jinx
Katana
Lance
Monkeywrench
Nullifier
Omega
Paris
Quebec
Rainbow
Sierra
Tango
Undertow
Victor
Whiskey
X-ray
Yankee
Zebra
--Misuse of callsigns is NOT authorized and is punishable by Log PT.
----
Roll Call 08.19.00
A Real American Hero: Alpha One (ARAHA-1): KaTonys@aol.com (Vypra)
A Real American Hero: Alpha Two (ARAHA-2): kozin@scsu.ctstateu.edu
A Real American Hero: Alpha Three (ARAHA-3): dkudirka@yahoo.com (Airtight)
A Real American Hero: Alpha Four (ARAHA-4): br519@rgfn.epcc.edu (SharpShot)
A Real American Hero: Alpha Five (ARAHA-5): joystick76@webtv.net

A Real American Hero: Bravo One (ARAHB-1): Big Nick R@aol.com
A Real American Hero: Bravo Two (ARAHB-2): job_3__14@yahoo.com
A Real American Hero: Bravo Three (ARAHB-3): Warflight@aol.com
A Real American Hero: Bravo Four (ARAHB-4): gil_galad@my-deja.com
A Real American Hero: Bravo Five (ARAHB-5): pmorales@optonline.net

A Real American Hero: Chaser One (ARAHC-1): Hazardis@aol.com
A Real American Hero: Chaser Two (ARAHC-2): ClaytnAbernathy@aol.com
A Real American Hero: Chaser Three (ARAHC-3): flash176@hotmail.com
A Real American Hero: Chaser Four (ARAHC-4): longneck@tminet.com
A Real American Hero: Chaser Five (ARAHC-5): dac357@hotmail.com

A Real American Hero: Delta One (ARAHD-1): miket@ugolino.com
A Real American Hero: Delta Two (ARAHD-2): raphmeister@hotmail.com
A Real American Hero: Delta Three (ARAHD-3): sarrge78@netscape.net
A Real American Hero: Delta Four (ARAHD-4): kelvinsv@tampabay.rr.com
A Real American Hero: Delta Five (ARAHD-5): abeta@evoserve.com

A Real American Hero: Echo One (ARAHE-1): ColonelHawk@aol.com
A Real American Hero: Echo Two (ARAHE-2): BnyBlu2u@aol.com
A Real American Hero: Echo Three (ARAHE-3): lord_maul_ed@yahoo.com
A Real American Hero: Echo Four (ARAHE-4): fastdraw87@earthlink.net
A Real American Hero: Echo Five (ARAHE-5): its_widescreen@hotmail.com

A Real American Hero: Fox One (ARAHF-1): eagle@sixthscale.com
A Real American Hero: Fox Two (ARAHF-2): jaegan@ms.uky.edu
A Real American Hero: Fox Three (ARAHF-3): CLANURE@worldnet.att.net
A Real American Hero: Fox Four (ARAHF-4): bencafirefly@yahoo.com
A Real American Hero: Fox Five (ARAHF-5): BeachHead5@aol.com

A Real American Hero: Gamma One (ARAHG-1): supacow@hotmail.com
A Real American Hero: Gamma Two (ARAHG-2): azaul@hotmail.com
A Real American Hero: Gamma Three (ARAHG-3): Mattvt87@aol.com
----